Jackson's picturesque village setting is surrounded by the opportunities for romance, recreation, and rejuvenation which abound in every season in the White Mountains. Imagine 86 mountain peaks including the 6,288-foot Mt. Washington, 9 notches, scenic waterfalls, rivers, lakes, and forests all awaiting you in a six season wonderland. In the pure, crisp air you can discover and enjoy all that our valley offers: outdoor recreation, hand-made crafts, local heritage, and scenic country lanes. The Inn offers lodging packages that include many of the activities you'll find in the Mt. Washington Valley.
Area Events 2018
| DATES | LOCATION | EVENT |
| --- | --- | --- |
| Thursday, April 4th, 2019 | Whitney Community Center, Jackson, NH | Spring Ephemerals - "pictorial journey of early spring wildflowers" |
| Friday, April 5th, 2019 | The Leura Hill Eastman Performing Arts Center, Fryeburg, ME | 10th Annual Art Celebrates Place - Showcases the work of local artists and the landscapes of the Mount Washington Valley and western Maine |
| Saturday, April 6th, 2019 | North Conway Community Center | 16th Annual Mt. Washington Valley Chamber of Commerce Chili Cookoff |
| Thursday, April 11th, 2019 at 7PM | Nature Learning Center, Albany, NH | Pictorial exploration of Birds of Trinidad & Tobago |
| Saturday, April 27th, 2019 from 1 - 3 PM | Nature Learning Center, Albany, NH | Marquetry: Creating Fine Crafted Art in Wood - Demonstration |
| Saturday, May 18th, 2019 at 9 AM to 4 PM | Jackson Art Studio and Gallery, Jackson, NH | Flower Painting (signup deadline is May11) |
| Sunday, May 26th, 2019, starts at 9 AM | Jackson Village Park, Jackson, NH | 30th Annual Wildquack Duck Race & Music Festival |
| June 7, 8, 9, 2019 | AMC's Highland Center, Route 302, Bretton Woods, NH | Lodge to Hut: Mount Washington Hike and Overnight |
| Saturday, June 29th, 2019 | Jackson Village | Larry Sierbert White Mountain Art & Artisan Festival |
| Sunday, June 30th, 2019 at 9 PM ('ish) | Jackson Village | Fireworks |
| July 19th and 20th, 2019 | Mount Washington Observatory Event | Seek the Peak Hike-a-thon for Mount Washington Observatory |
| Thursday, July 25th, 2019 at 7 PM | Cranmore Mountain Resort, North Conway, NH | Arts Jubilee: Duke Robillard Band |
| Thursday, August 1st, 2019 | Cranmore Mountain Resort, North Conway, NH | Arts Jubilee: Piano Man - A Tribute to Elton & Billy |
| Saturday, August 3rd, 2019 | Jackson Covered Bridge, Jackson, NH | Covered Bridge Dance - Featuring Jon Sarty and the White Mountain Boys |
| Thursday, August 8th, 2019 | Cranmore Mountain Resort, North Conway, NH | Arts Jubilee: Pops Concert & Fireworks Show |
| Saturday, September 28th, 2019 | 100-Acre Wood, Intervale, NH | 100-Acre Challenge - 5K Obstacle Adventure |
| All of October 2019 | All around Jackson | Return of the Pumpkin People |
| October 18, 19 and 20, 2019 | Jackson Village Park | New England Pumpkin Carving Competition & Exp0 |
| Saturday and Sunday, December 14 and 15, 2019 | Various Participating Inns in New Hampshire | 22nd Annual Holiday Cookie Tour |
| Saturdays and Sundays in November and December, 2019 (dates not officially announced yet) | Around Jackson, NH | Jingle Bell Chocolate Tour |
| | | |
Springtime Bud to Blossom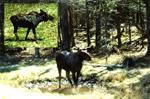 Shoppers find many bargains and hikers enjoy the moose and other wildlife that return with the blossoming spring. From late April through early Fall you can enjoy a Moose Tour with moose sightings guaranteed. Hear the roar of the river and see its tremendous power as the winter snows melt. Waterfalls are at their best and hiking trails abound. Fish in rushing mountain streams and back country ponds, the trophy section of the Ellis River just past Jackson's covered bridge, the Wildcat or the Saco. Check out North Country Angler for advice, lessons and guided trips, or Reel North.
Area golf courses open for the season in May, with early season rates. In addition to the Wentworth and Eagle Mountain Golf Courses in Jackson, you can play at eight other White Mountain courses from the Omni Mount Washington Course (voted "Best Course You Can Play" in NH by Golfweek Magazine) to the scenic North Conway Country Club links.
June brings spectacular displays of Lupines and the alpine gardens above tree line on Mt. Washington. Lots of things to do indoors, too, from visiting the Weather Discovery Center in North Conway to art galleries and antique shops.
Summer ~ The Living is Easy or Adventurous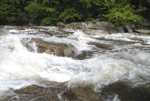 Warm days and cool star-filled nights make ideal conditions for romance, outdoor adventures or just taking time for rejuvenation. If you can stir from the Adirondack chairs by the river, outdoor adventures abound, from touring back roads from Vermont to Maine with a picnic lunch or cruising Lake Winnipesaukee to hiking some of the over 150 miles of trails in the Presidential Mountain Range ~ some to the waterfalls for which the inn's rooms are named.
In the middle of Jackson, the Wildcat River drops in a series of short falls and cascades providing small pools perfect for cooling off and granite slabs for sunning. Swim in one of the area's crystal clear lakes, the Saco River at Humphrey's Ledge or in the heated pool at the inn, of course!
Mountain biking is available at Great Glen Trails or Attitash, or take to the back roads for rides uphill and down. Go for a horseback ride at Black Mountain for scenic slopeside views. If canoeing or kayaking is your preference, there are many outfitters for exploring the Saco and Androscoggin (Saco Bound, Northern Extremes).
Evening entertainment includes concerts and productions by M&D Productions, the Eastern Slope Playhouse in North Conway, Stone Mountain Arts Center in nearby Brownfield, ME, and The Barnstormers, America's oldest professional summer theater, in Tamworth as well as local entertainment at many of the pubs in the area.
Early September brings apple time with its crisp nights with still warm days ~ often overlooked as a wonderful time for exploring the Mount Washington Valley as seasons begin to change but summer lingers.
Foliage Spectacular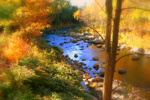 Autumn brings visitors from near and far to view the spectacle of vibrant colors combined with the mountain views and waterfalls. Color often begins about the third week of September. Reds, yellows, and oranges flow down the mountainsides until mid-October when colors begin to mellow before drifting from the trees late in October. Hiking, biking, canoeing and kayaking become different experiences in autumn, and views from a slopeside horseback ride are spectacular.
At the beginning of October Pumpkin People appear all around Jackson in the annual tradition of celebrating foliage with creative pumpkin still lifes. Take a ride along the scenic Kancamagus Highway, 30 miles of spectacular viewing along the only National Scenic Byway in New England with many overlooks and short hikes to waterfalls.
Fall Serenity Season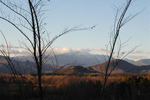 Serenity increases as the leaves gradually drop in the forests and Mount Washington is frosted in white. Knowing visitors return to enjoy that serenity and occasional Indian Summer days. Golf courses are still open until late October, and late season hiking reveals distant vistas hidden by leaf canopies earlier in the fall. It's a perfect time for treasure hunting in the many antique stores and flea markets, checking out museums and galleries, and shopping for the holidays at Jackson's unique shops and North Conway's many outlets.
It's also a perfect time for romance, whether curling up in front of the fire with a good book or great movie shared with that special person in your life, a friendly game of billiards or chess, or a candlelight dinner for two.
Holiday Festivities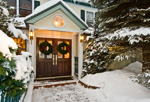 Jackson puts on its best winter finery ~ holiday lights glitter in the evening darkness. You can stroll through the village to admire the decorations and browse the shops for unique gift ideas, then head for nearby North Conway for shopping specials. Winter fun begins with skiing and sleigh rides. Why not plan to bring home a freshly cut wreath or tree? It's a festive time with Jackson's Traditionally Yours Celebration and New Year's celebrations throughout the valley. Come and enjoy the best the holiday season has to offer.
Snow Much Fun and Romance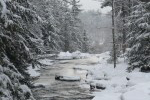 Who needs to limit Valentine's to a day since Jackson was named one of the 10 most romantic ski towns in the East? You'll find a winter wonderland wherever you look. Enjoy the best cross-country skiing in the East right here at Jackson's Ski Touring Center and Great Glen Trails is only a short distance away at the base of Mount Washington. Bear Notch Ski Touring Center is close by as well. All have great snowshoe trails, too! Up for more adventure? Try a backcountry skiing tour or ice-climbing with Eastern Mountain Sports Climbing School.
Don't want to work so hard? Ride the Snow Coach to above treeline or drive part of the Scenic Byway for winter vistas in every direction. Go snowmobiling with a guided tour or rental in Fryeburg or Gorham, or Bear Notch or Bretton Woods. Even dogsled rides can be arranged near Jackson.
If Alpine skiing is your cup of cocoa, you're in the right place. Black Mountain, a family friendly mountain great for beginners, is right in the village of Jackson. Wildcat Mountain, at Jackson's highest reach, was one of the first ski areas in the country and offers a true New England skiing experience. Your lift ticket there also is good at Attitash in Bartlett. You can ski or tube at Cranmore Mountain in North Conway or drive up Crawford Notch to Bretton Woods. A crackling fire and warm refreshments greet you when you return to the inn. A weekend evening is a perfect time for a romantic sleigh ride at Nestlenook Farm.
Jackson is home to the New Hampshire Snow Sculpting Competition in late January. Visitors can view sculptors at work night and day to complete their work in time for judging. February is for romance, of course! March brings great spring skiing and sugaring season, where you can watch the delicious treat we serve with all our pancakes being made. When sugaring ends, the buds are starting to turn to blossoms.