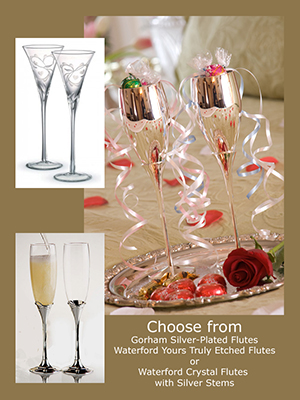 Choose our Celebration Package with your choice of:
Champagne Flutes with silver-plate stems OR Crystal Champagne Flutes by Waterford Waterford Marquis Etched Champagne Flutes OR Waterford "Elegance" Crystal Champagne Flutes to keep as a memento of your stay!
Served with our house Champagne $99 (or Sparkling Cider $79).
Served with Mumm's Napa Cuvee $105.
Served with Veuve Cliquot Champagne $145.
Please specify choice crystal champagne flutes or flutes with silver-stem, and choice of beverage.