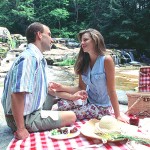 The hills will be alive with the sound of music this summer in the White Mountains, so plan to include enjoy an outdoor concert and picnic as part of your New Hampshire summer vacation or weekend getaway. The 32nd Arts Jubilee Annual Summer Concert Series begins Thursday evening, July 17, 2014 at the base of the North Slope at Cranmore Mountain. Each of these concerts includes an early concert at 6:00 pm featuring local musicians as well as the main event, so plan to have the Inn at Ellis River pack you a gourmet picnic, spread a blanket on the lawn, and enjoy the music! Admission is $10 for adults. For more information, e-mail: info@mwvevents.com . The Thursday evening performances include:
July 17      Beatlemania with Bob Halligan, Jr as Paul McCartney. Early concert by the Mount Washington Valley Band beginning at 6 pm
July 24      Don Campbell & Band Celebrating the Music of Dan Fogelberg. Early concert by Chasing Asia.
July 31      Jonathan Edwards Trio. Early concert by Junco.
August 7   A Salute to Hollywood & the Movies with the New England Society Orchestra, Clayton J. Poole, Music Director, plus FIREWORKS FINALE! Early concert by Dennis & Davey.
August 14 Roomful of Blues, an eight-piece band led by guitarist Chris Vachon. Early concert by the Mo' Blues Band.
If your stay at the Inn includes a Tuesday evening, you can catch the Mount Washington Vally Band in the Gazebo next to the Community Center in North Conway, beginning at 6:30 pm. Programs feature familiar classical pieces, marches, popular songs, and show tunes. Themes for the 2014 summer season are shown below:
July 8         Swing Band Countdown
July 15       Broadway Goes to the Movies
July 22       Symphony Hall
July 29       Teddy Bear Picnic
August 5    Vocalist Invitational
August 12  Beatles 1964
August 19  Band Members Choice
At Attitash, the Attitash Mountainside Music Series offers live music on Saturdays from 3 p.m. to 6 p.m. during July and August. You 'll hear:
July 5         Chasing Asia
July 12       Played Out
July 19       Ross Livermore Band
July 26       Full Circle
August 2    Dean Machine
August 9    Pat Foley Band
August 16  Blue James Band
August 23 The Gravel Project
August 30 The Jonathen Sarty Band
August 31 Livin' the Dream
Finally, White Mountain Musical Arts will present the 2014 Bach and Friends Festival on Saturday August 24, and Sunday August 25, 2014 with the Bach Festival Chorus.