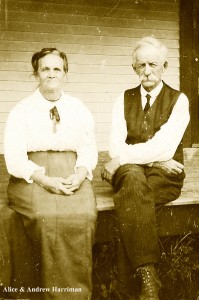 The Inn began life as the home of Alice and Andrew Harriman and their family when they acquired the farmhouse in 1893 along the banks of the Ellis River. The road leading to the Inn bears the family's name. The classic red barn and ice house also date from this period. Andrew Harriman, a talented carpenter, was responsible for building Jackson's three room schoolhouse and many of the prestigious second homes in the village. When a fire destroyed the original town hall, he built the replacement (now the Historical Society) in 1895.
The home has a long history of hospitality to visitors. After Andrew Harriman's death, the house was occupied by his daughter, Bertha Magoon and her family. Descendants of the Magoons remember a happy home where relatives visited in the summer. During this time, their home also became a boarding house for local residents and employees of surrounding resorts, inns, and lodges. The farmhouse was passed on to Bertha Magoon's three daughters and one son. It was then sold to a Manhattan stock broker, who used the farmhouse as a second home for three years.
In 1985, Barry and Barbara Lubao acquired the property and along with their children, Jay and Jennifer, they began the transformation of this farmhouse on the river into a six room bed and breakfast, the Ellis River House. The ice house located next to the barn was renovated to a rustic cottage for two. The Lubao's built the atrium overlooking the river, which houses the inn's hot tub, using hemlock cut and milled locally.
One hundred years after its original construction the Harriman's original 1893 farmhouse was expanded as part of the Lubao's vision with the addition of the north wing which includes 13 guest rooms (many with Jacuzzis and fireplaces), the cozy gameroom and pub, our sunny breakfast room, and lobby.
In 2000, Monica and Jim Lee purchased the Inn and enhanced it further. They created the Silver Cascade room with its private balcony and spectacular views of the Ellis River. In 2001, they replaced the original carriage house with a home for the innkeepers and the two newest guest rooms, Pearl and Sparkling Cascades, with gas fireplaces, Jacuzzis with windows overlooking the river, and private balconies.
In 2004, Frank Baker and Lyn Norris-Baker purchased the Inn. For 10 years they continued the long tradition of warm hospitality begun by the Magoon family and further enhanced the Inn's amenities.
John and Mary Kendzierski purchased the Inn in September, 2014 and in the spirit of the Inn's wonderful and long tradition of warmth and hospitality, they continue to provide the high-level of care and service our guests have come to expect and truly enjoy. John and Mary have plans to further enhance the Inn, its many rooms and more.
Come visit us for the romance, relaxation, and rejuvenation you deserve. We are waiting to welcome you!