RETURN OF THE PUMPKIN PEOPLE ~ October 1 – 21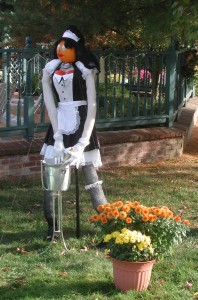 Every year for the past 25 years, the Pumpkin People return to Jackson, NH. Fifty businesses and residences host these special visitors between October 1 and 20. One year the maid Fiona served breakfast in bed with champagne to our Pumpkin Guests. Another year, she had to bring extra pillows to the Princess and the Pumpkin. Last October, she saved 101 Dalmations from Cruella de Vil. To find out what she does this year and to see these famous residents and all their antics, book your package that includes:
Two nights' lodging
Full breakfasts and afternoon refreshments each day
Map to all the Pumpkin Peoples' locations
A three course dinner one evening at a local restaurant
A memento of your foliage season stay in the White Mountains
Package is $409-$469 for classic rooms, $469-$509 for fireplace rooms, and $529-$669 for jacuzzi rooms, depending upon room selection.