BICKNELLS THRUSH TOUR on MT. WASHINGTON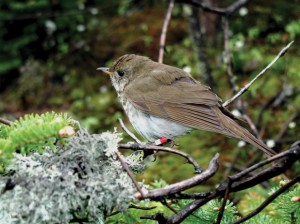 Mt. Washington is one of two Bicknell's Thrush habitats in the northeastern United States. These birds area the most secretive of the breeding thrushes in North America and the only bird whose breeding is restricted to the Northeastern part of the continent. Mount Washington provides the combination of high altitude, low vegetation and abundant moisture they prefer, and the Auto Road offers a unique opportunity to view these rare birds.
Tours schedule: June 6, June 8, June 9, June 11, June 17 and June 19, departing from the base of the Mt. Washington Auto Road very early in the morning and last approximately 2 hours. Our one night package includes:
Afternoon refreshments on arrival
One night's lodging
Two tour tickets
An continental 'breakfast to go' before the tour including fruit, sweet bread and coffee or tea
Our full country breakfast to enjoy after the end of the tour
One night package including two tour tickets, full breakfasts and afternoon refreshments is $229-$269 for classic rooms, $259-$279 for fireplace rooms, and $289-$329 for jacuzzi rooms. Two night packages also are available, or take advantage of our Value Vacation offer for your third or fourth night and have more time to enjoy all the Mt. Washington Valley offers in early summer. Saturday night stay (for Sunday, June 9 tour) requires a two night minimum in most rooms.