Oatmeal, Craisin, Toffee and Chocolate Chip Cookies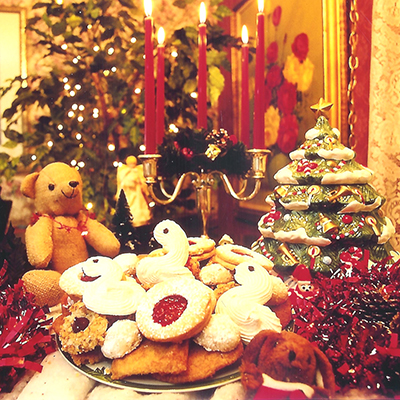 First featured at the 2004 Inn to Inn Cookie Tour, these decadent treats are a perennial favorite at the inn. For a variation, substitute diced apricots for the toffee chips and white chocolate chips for the semi-sweet ones.
Ingredients:
1 1/2 cups flour
1 1/2 cups oatmeal
1 teaspoon baking soda
1 cup butter, softened
3/4 cup sugar
3/4 cup brown sugar
1 egg
1 cup semi-sweet chocolate chips
1 cup craisins or dried cranberries
1 cup toffee bits
1 teaspoon vanilla extract
Directions:
Preheat oven to 350 degrees F. Sift flour and baking soda and set aside. Cream butter and sugars together well and add egg and vanilla extract. Mix in flour and baking soda until well blended and gradually blend in oatmeal, chips, craisins, and toffee bits. Chill dough well to prevent mixture from 'spidering' while baking. Drop by rounded Tablespoons onto parchment-lined baking sheet 2 inches apart and bake for 9 to 12 minutes. Makes 3 dozen cookies.