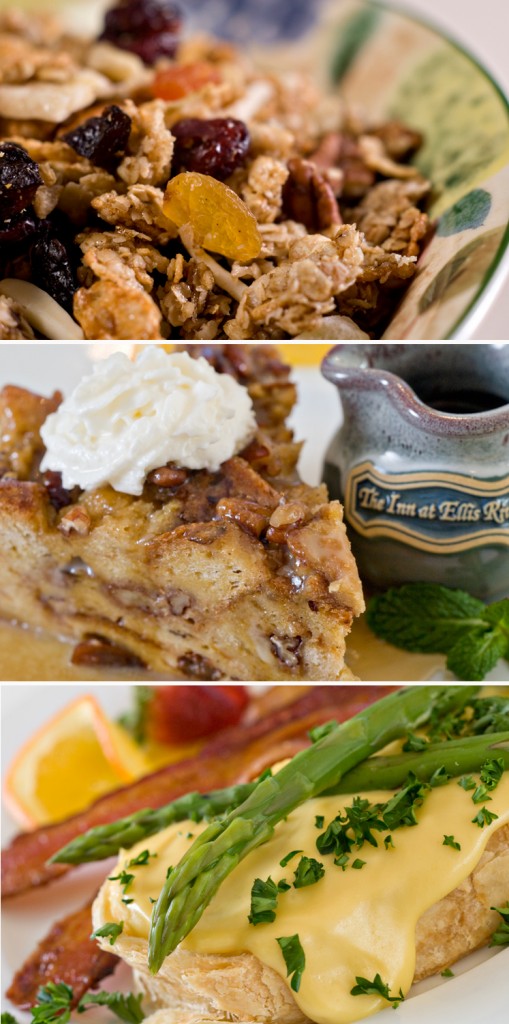 Our clear mountain air will assure your appetite! Breakfast is served between 8:00 and 9:30 in our sunny dining room. We feature local and regional food products as much as possible and will surprise you each morning with a different menu. You'll start with your choice of coffee, tea or hot chocolate and a first course of:
Fresh Fruit and Fruit Juice
Cereals or Homemade Granola
Yogurt
Freshly baked sweet breads, muffins, coffee cake or doughnuts
For your next course,  choose between our two hot entrées, each served with sausage or our special bacon and a choice of toast if you wish. The sweet entrée might be a cinnamon crepe stuffed with an apple filling and topped with crème fraîche, blueberry banana pancakes, or perhaps baked pecan praline french toast with whipped cream or orange croissant french toast topped with fresh strawberries. There's maple syrup, of course!
Or opt for our savory entrée of the day which might be a double tomato, basil and mozzarella omelet, a roasted pepper and vegetable frittata, or Eggs Benedict strudel with fresh asparagus. Elegant and hearty, our breakfasts will leave you satisfied and ready to enjoy the beauty of the White Mountains.
If you are departing early, a continental breakfast is always available ~ just ask an innkeeper the day before. We will do our best to accommodate special dietary needs ~ please let us know when you check in if you have dietary limitations.
Hungry yet? If you can't wait until your next visit, try one of our recipes: