Annual Inn-to-Inn Herb, Food & Beer Tour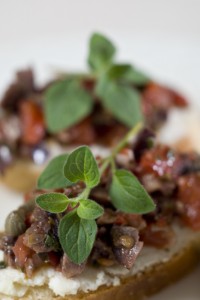 One of the TOP 20 NEW HAMSHIRE EVENTS chosen by
Savor the glories of spring in the White Mountains when you visit 10 premier inns in the White Mountains and learn all about fresh herbs– their uses, history, and versatility. This year the tour will also include cooking demonstrations, visits to two microbreweries, a chocolate house, two family farms, and a health food store.
Each inn chooses one herb and offers delicious samples of a special recipe using the herb from their own kitchen garden. It might be a taste of tomato basil soup, carrot-chervil dip, sage biscuits, tarragon egg salad, or rosemary chocolate cookies. This year the Inn at Ellis River will be featuring different varieties of chives.
You'll follow a route from north to south through the Mt. Washington Valley, sampling herb-inspired recipes both sweet and savory, learning from chefs at four cooking demonstrations, touring two breweries, and go home with a notebook of new recipes, interesting herbal lore, new ways to use herbs, and a memento of the tour.
For even more herbal delights, plan to dine on a Plant-to-Plate menu at one of four inns on the tour. Visit our specials section for all the details about the Inn's lodging packages offered for this Tour. 
Plan to attend the Tour June 7-8, 2014. In the meantime, get inspired by recipes from past tours when we featured basil, dill, oregano, sage, and mint:
The Inn to Inn Herb Tour is a fabulous reason to take a getaway to Mount Washington Valley…in June. - NH ToDo Magazine, June 2010