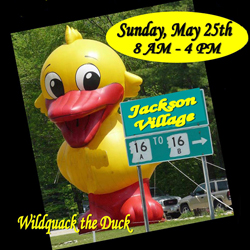 Make plans for a holiday weekend getaway to the Inn at Ellis River and don't miss Jackson NH's 25th Anniversary Celebration of the Wildquack Duck River Festival, Sunday May 25, 2014! There will be more than $10,000 in cash or prizes, wagon rides through Jackson's famous covered bridge, a Cake Boss Competition featuring local bakers, the 5 Minutes of Fame Stage, and of course, the Duck Races down the Wildcat River! The first duck across the finish line in the 25th Running of the Ducks wins a $1,000 prize, while other fast finishers win prizes for their ticket holders such as vacation stays, dining certificates, tickets to attractions, and more. We'll be there to cheer our favorites on – in past years a guest's duck was the big winner in the classic race, and the Inn's "Chuck the Duck" won the Big Duck race.
Here are Sunday May 25th's events:
8:00 AM – close – Vendor booths with 'Duck Stuff', food, games, and more
9:00 AM – 2:00 PM – Silent Auction with lots of great items, big and small
1:00 PM – 5:00 PM – Five Minutes of Fame
2:00 PM – Jackson's Cake Boss Competition
2:30 PM – The Duck Parade
2:45 PM – Big Ducks Race (many ducks sponsored by local businesses)
3:00 PM – The Running (or Swimming) of the 3,500 Ducks
3:20 PM – Announcement of Race Winners and Best Named Duck
So plan on a ducky Memorial Day Weekend getaway to the New Hampshire's White Mountains this year. Book our Wildquack Package that includes a great discount on a three night stay, duck tickets for the race, Good Luck Duck hors d'oeuvres on Saturday, a souvenir rubber ducky, and more. Some two night packages also are available. Be sure to visit our Facebook or Google+ pages to help name our Big Duck entry for this year ~ there's a prize for the best name!.