June is the ideal time to see fields of Lupine and Mt. Washington's Alpine Garden in bloom. Many alpine flowers in the White Mountains are native much farther north in Canada, and traveled south with the last ice sheet to be left behind in the high elevations of the Presidentials. This year, local naturalists report many different alpine flowers are abundant. You can see white diapensia and purple lapland rosemary from the six mile point on the Auto Road, and in the Alpine Garden, you will see the diapensia, alpine azalea, and alpine bearberry willow. If you are a hiker, flowers on the lower summits of the more southern Presidentials are the earliest to appear. Good hikes are Mt. Eisenhower, Mt. Clay, or later in June, the Caps Ridge Trail up Mt. Jefferson.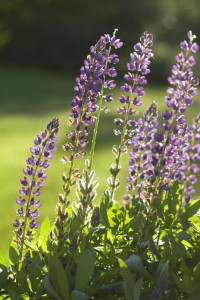 In addition to the alpine flowers on the mountain heights, fields of lupine are in bloom in the lower elevations this month. You'll find some here at the Inn at Ellis River, and along the five mile circuit road and Thorn Hill Road in Jackson. For the greatest concentrations, drive the Scenic Byway (Route 302) west to the area of Bethlehem, Sugar Hill, and Franconia.Their 21st Annual Celebration of Lupines continues throughout June. You can download a map to guide you to the best spots for Lupine viewing and photography or stop at the Information Center on Main Street in Franconia at Exit 38 of I-93 for the free booklet that includes the map, list of events, and coupons for area businesses.
The Inn's White Mountains and Waterfalls package is perfect for this getaway ~ book it and you'll be ready for your travels with a picnic lunch and cooler, Wildflowers of the White Mountains, and a discount for the Mt. Washington Auto Road.