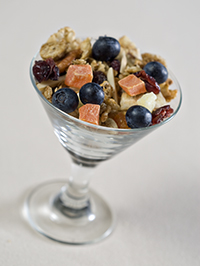 This was the Inn at Ellis River's first year to participate in the March Maple Madness Inn-to-Inn Tour.  The Inn was decorated with a March Hare theme accented with early spring flowers.  We greeted guests with Maple Banana Bacon Mini-Muffins and Make Your Own Mini-Maple Parfaits with Maple Yogurt, the Inn's Maple Granola, and fresh berries. Our bunny decorations and our goodies both won first place awards among the inns on the tour ~ Check out our Facebook page for pictures of maple treats and our favorite bunnies! You'll find the recipes for our Granola and the Maple Muffins in the Recipe Section of this web site.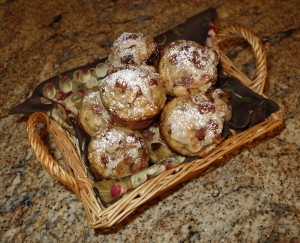 We use syrup from Jackson, NH's Black Mountain in the Inn's recipes, but there are many other sugarbushes in the Mt. Washington Valley. Maple syrup comes in different grades with the most delicate being Grade A Light Amber. Grade A Medium Amber, Grade A Dark Amber, and Grade B increase in darkness and the strength and robustness of the maple taste. Although Light Amber may add a graceful note to pancakes or waffles, many New Englanders prefer the darker grades, especially for cooking. When you bring home that jug of freshly boiled maple syrup from one of New Hampshire's sugar shacks or farm stands, you'll find many uses besides the traditional French Toast, waffles, or pancakes. Maple is a wonderful complement to apples, bacon, bourbon, chocolate, brown butter, pecans, walnuts, and coffee.
At breakfast, you can drizzle maple syrup over warm apple cider doughnut holes, or add several tablespoons of syrup and a dash of cinnamon and lemon juice to chunky applesauce.
Glaze thick-sliced bacon with syrup, or mix it with mustard to glaze grilled salmon or chicken and complement maple's sweetness with a spicy citrus salsa.
Vegetables? Add a glaze to carrots, sweet potatos, or brussels sprouts.
Maple can satisfy the sweet tooth in everyone. In addition to maple cookies, try a maple coffee or maple walnut sundae for dessert. For pie lovers, there's always maple pecan pie or a maple apple tart.
So enjoy maple syrup all year long, and don't forget to make a weekend getaway to Jackson to sample the Inn's maple treats and take home the best maple syrup from the White Mountains!