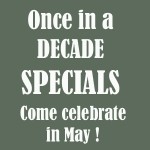 Celebrate the Inn at Ellis River's 10th Anniversary in May! Lyn and Frank purchased the Inn on May 5, 2004, so plan a getaway to help us celebrate! Daffodils are traditional for a 10th anniversary, and ours in Jackson, NH, will be blooming. Many things have changed over the past decade from the name and color of the Inn, to updated decor, new gardens, and more. We value most what hasn't changed ~ so many of you that have become our guests and shared your special times with us. To celebrate both old friends and new, we've got special 10th Anniversary gifts for our guests all month!
Just for the month of May, we've brought back 2004 room rates! For specific room rate, call us (800-233-8309) or request the 2004 rate online. Sorry, but these rates cannot be applied for Memorial Day weekend May 23-26, or combined with other discounts or use third party gift certificates or gift cards.
We're having a '10 Then and Now' Quiz for guests all May ~ answering the 10 questions correctly about changes at the Inn 2004-2014 will enter you in a drawing for gifts including a free night's stay. You don't have to rely on your own memory ~ even a new guest who has never stayed here before will be able to find the answers!
Foodie Fun ~ We'll bring back some of the breakfast menu items and afternoon cookies from 2004 ~ freshly made, of course! Recipes for guest favorites will be posted on our website.
Romantic Moments ~ For those who have shared engagements, weddings, honeymoons, and anniversaries with us at the Inn, we hope you will help us celebrate with a visit during May ~ we have some special '10′ anniversary gifts for you ~ just let us know when you make your reservation. We know guests who will receive three gifts because they became engaged, honeymooned, and celebrated an anniversary here ~ is there anyone who deserves four gifts? Just let us know!
Photo Contest ~ We know lots of our guests have great photos taken on their getaways to the inn. Every month this year beginning in May we'll be asking you to post your favorites to our Google + and Facebook pages. Anyone who posts a photo of a current or past getaway will be entered in a monthly drawing, plus a drawing in December for a free night's stay. Each photo/album posted will earn an entry in the drawing, so post several times during the year! Here are some photo ideas for Spring. In addition to photos at the Inn, you might post the following subjects:
May ~ Anniversaries, of course, plus Spring in the White Mountains, and May events such as the Wildquack Festival.
June ~ Wild flowers and waterfalls, engagements and weddings, plus the Inn to Inn Herb Tour and the Jackson's June Jingle Bell Chocolate Challenge (self-guided tour with 15 stops in the Jackson area).
Changes continue, with three newly refreshed rooms to experience in May. As you can see from the image above, the first of the cherubs to fly away was on the old sign for Ellis River House…the last will be part of our special anniversary celebration of the Inn at Ellis River.
Come and join us as we begin our second decade ~ we'll do our best to make your visit a '10′!