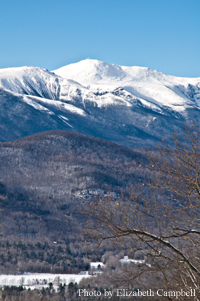 The winter can be a great time to be on foot on the trails of the White Mountains. Hiking, climbing, and snowshoeing are abundantly available for people of all ages and experience. With the leaves off the trees, the views from the trails with glistening snow and ice all around provide some of the best sights in the White Mountain region.
The fun is likely to be directly related to how prepared you are for the changing conditions of mountain weather. Know thyself, is probably the first rule of thumb. Be respectful of your level of experience in cold weather and your level of fitness. If you are a beginner or novice winter enthusiast, educate yourself and/or talk to knowledgeable people about how to prepare for and manage cold weather conditions.
Hiking and snowshoeing are especially vigorous activities as compared to hiking on dry trails. You can plan on going about half to one-third the speed or slower than your typical hiking speed. It is especially important to stick to well-marked trails in the winter, as there may be hidden dangers beneath the snow and ice. Winter nights come early in the mountains so be back relaxing by a cozy fire by late afternoon.
No matter what your plans are, on the day of your outing check in and find out the conditions of trails at either one of the AMC centers, such as Pinkham Notch, Highland, or Great Gulf visitors centers, or any of the Ranger Stations, such as in Conway or Lincoln Woods, on the east and west ends of the Kancamagus Highway. There also are great snowshoeing trails in the region, including equipment rentals at the Jackson Ski Touring Foundation, Great Glen Trails (at the foot of Mount Washington), Bear Notch, and other touring centers in the region. So be prepared, check on conditions, know your limits, and enjoy the trails!                                                         ~ Peter Lique Naitove