Enjoy Peak Experiences on the Summit of Mount Washington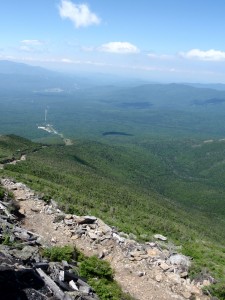 You can reach the top of the highest peak in the Northeast by hiking, riding or driving, and there are two special ways to do it this month. Seek the Peak, a hiking event which supports the non-profit Mount Washington Observatory, is Saturday, July 19, 2014. Hikers choose many trails ascending Mount Washington, each offering slightly different views and experiences. If you are staying at the Inn and participating in Seek the Peak, let an innkeeper know and we will be happy to contribute to your fund-raising efforts. Sunday, July 27, 2014, the Mt. Washington Auto Road will open at 4:00 am for a Sunrise Drive. Visitors can hope to view a spectacular sunrise over the mountains and possibly even the Atlantic Ocean. Don't worry ~ if the summit is in the clouds there are plenty of places along the road to catch the glow and possible mix of clouds in the cool mountain air. Please note that you must drive yourselves for the Sunrise Drive (no guided tours are available), and plan to arrive early at the Toll House due to higher than normal traffic.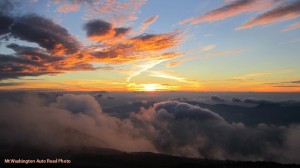 You will have one more chance for a Sunrise Drive on Sunday, August 31, 2014, when the Auto Road opens at 4:30 am, and you may even have a chance to see the earliest tinges of foliage colors on the mountains. If you are planning either of these drives, let staff at the Inn at Ellis River know when you check in, and we will be happy to fix you an early breakfast snack to take along ~ and you'll be back at the Inn in time for your full gourmet breakfast, too!