Go on a Moose Safari in New Hampshire's White Mountains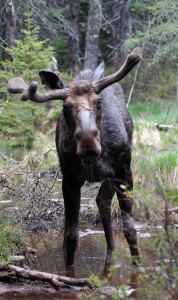 Moose enjoy their habitat in the White Mountains, especially boggy areas such as those created by beaver dams. Although you may not see a moose close to the Inn, drive north a bit toward Pinkham Notch, go west through Crawford Notch and along the Ammonousuc River, or take Bear Notch Road to the Kancamaugus Highway, and you may see these majestic animals near dusk or dawn. If you see vehicles pulled over by the side of the road, there's a good chance moose are nearby. Watch carefully, as vehicle collisions with moose can be deadly!
There are about 4,500 moose currently in New Hampshire. In the White Mountains, the density of moose is about one per square mile, while to the north of Route 2, it is about one and a half per square mile. Venture farther north toward the Connecticut Lakes, and the density increases. If you want to be sure of seeing moose, book our Moose on the Loose package that includes two tickets for Dan's Moose Tour leaving May – September evenings from Gorham, NH. Dan promises you'll see moose or you can return for another tour for free. His tour also includes lots of local lore while you travel along some of the moose herd's favorite haunts. So if you've ever wanted to see these famous White Mountain residents, come see us soon!