Cool off with a refreshing glass of our Citrus Mint Iced Tea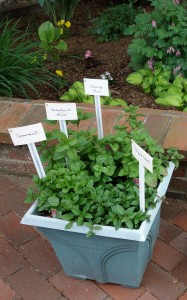 The Inn at Ellis River's herb garden is thriving, and these warm summer afternoons are the perfect time to enjoy a cool refreshing glass of our Citrus Mint Tea ~ preferably beside our outdoor pool or in an Adirondack chair by the Ellis River. If you can't get away for a visit to the White Mountains, here is the recipe for our tea to enjoy at home. We feature a different herb during the Country Inns in the White Mountains Inn to Inn Herb Tour each June, so be sure to check out the other Herb Tour recipes we have posted including this year's great White Chocolate Coconut Mojito Cookies and Minted Pea Soup while you sip your iced tea.
Here's the recipe for our Citrus Mint Tea: Bring 2 cups of water to a boil and add 2 tea bags and 4 sprigs of fresh mint. Cover and let steep for about 10 minutes. Combine 1 ½ cups hot water, ½ cup plus 2 Tablespoons sugar, 2 Tablespoons fresh orange juice and 1/3 cup fresh lemon juice in a 1 quart pitcher. Stir until sugar is dissolved. Remove the tea bags from the tea mixture; add to pitcher with the fruit juices, and stir well. Adjust sweetness if desired and chill. Serve over ice, garnish with a fresh sprig of mint and enjoy! Makes 1 quart.