Train Rides on the Mount Washington Cog Railway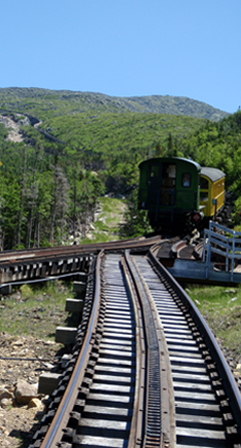 Today is the first day of the 2012 season for the historic Cog Railway, and some of the inn's guests this weekend plan to enjoy the spectacular views from Mt. Washington's summit without needing their hiking boots. Sylvester Marsh of Campton, New Hampshire, was inspired to build this easier mode of transportation while hiking and nearly becoming lost near the peak of Mount Washington. Construction was not easy, however ~ in fact, Marsh had no trouble obtaining permission to build the 'Railway to the Moon' from the doubting state legislators. Materials had to be hauled by oxen 25 miles to Bretton Woods, and then another six miles through the forest to Mount Washington. The Cog carried its first paying passengers partway up the mountain in 1868, and the inaugural trip to the summit was July 3, 1869.
It is the second steepest rack railway in the world, ascending from the Marshfield station near Bretton Woods at an elevation of about 2,700 feet to the summit at 6.288 feet, the highest point in the Northeastern US. The average grade is over 25% with a maximum of over 37%. Trains take a little over an hour to ascend the three mile long track, and 40 minutes to descend. Passengers have about an hour at the summit to enjoy the views and visit the Observatory. The Cog is open weekends only until May 25, then daily through the summer and fall. Although most of the trains are diesel powered, a steam locomotive makes the run at 8:30 each morning from mid-June until late October. The Cog asks passengers to arrive 30 minutes prior to departure, and the trip from the inn through Crawford Notch to the station takes about 45-50 minutes, so if you are a steam buff booking the 8:30 train, please ask us for a Breakfast to Go. See our Attractions Map for directions and further information about The Cog.