Halloween is coming, so visit Cranmore Mountain's Ghoulog on your weekend getaway!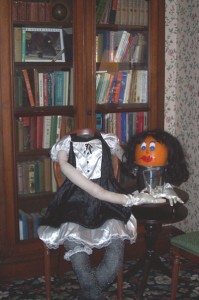 Every year, Cranmore Mountain turns into a frightful place on weekends in October with their Ghoulog. What's a ghoul? According to folklore, it's a monster that resides in graveyards and similar uninhabited places whose favorite snack is human flesh. Then what is a Ghoulog? A frightful hour-long experience that leads the unsuspecting through a series of dark rooms, mazes, and other scary places where the macabre lurks. This year, Cranmore Mountain's nightmarish extravaganza is located indoors in a secret location reached by shuttle from their base lodge. If the Ghoulog isn't frightful enough, those seeking the ultimate terror are invited to experience The Cult of the Ghoulog, which includes a trip up the chairlift to Cranmore's summit. Hungry for even more adventure? The Haunted Playground transforms their Zipline, Mountain Coaster and Giant Swing into scary Halloween-themed rides under the stars, and an outdoor food court and the Bloody Noose Pub offer refreshments for humans instead of ghouls.
So plan to add some White Mountain fright to your late October weekend getaway with a ghoulish adventure at Cranmore Mountain. Advance reservations are strongly advised. Tickets for the Ghoulog are $25, or plan to visit both the Haunted Playground and Ghoulog for $46. The Cult experience is $30 per person. For full information on dates, times and restrictions, please visit the Cranmore Mountain website.