Enjoy a historic walking tour of Jackson, NH, June 23, when Art in Bloom pairs White Mountain art and flower show.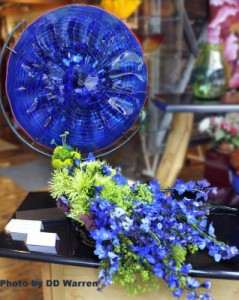 Visit the shops, inns and historic buildings of Jackson Village on the Art in Bloom Walking Tour June 23, 2012, combining exhibits of local artists with floral arrangements inspired by each piece of art. The free self-guided tour begins at the Jackson Public Library, and continues to Ravenwood Curio Shoppe, the Snowflake Inn, the Whitney Community Center, Jackson Historical Society, and the Wentworth. A brochure will include a map and descriptions of the locations, artwork and floral arrangements. A shuttle is available for those who do not wish to walk the complete route.
Featured White Mountain artists include Erik Koeppel, Dorothy Rogers, Nathan Macomber, Jean Damp, David Baker, Melanie Leavitt, and Molly Wensberg. Each piece of art will be paired with a floral arrangement specially created to compliment its color and style by a member of the Mountain Garden Club. There is no better way to 'Stop and smell the roses' with a June weekend getaway, so come to Jackson and make the Inn at Ellis River your lodging choice for this annual event.