Jackson meant a special babymoon at the Inn at Ellis River!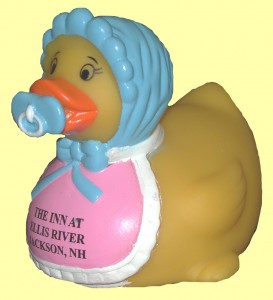 Was it the sparkling cider on a moonlight night, the gentle massage, the afternoon relaxing by the pool, or just the choice of Jackson, NH, for a babymoon when you plan to name your baby boy Jackson? Who knows, but it was a very special pre-baby getaway for two of our guests this past weekend when their baby decided if he was in Jackson, it was time to make his appearance! Fortunately, they had time to go to the hospital in North Conway, and we are delighted to report that Mom, Dad, and baby Jackson all are doing well. However, we do think it was selfish of the baby to make his parents miss our gourmet breakfast on their wedding anniversary! Of course, we're inviting Mom and Dad back to finish their unexpectedly brief romantic getaway and enjoy another bottle of bubbly in the moonlight when Jackson is old enough to stay with his doting grandparents.
If you're expecting a new addition to your family, why not plan some quiet, romantic time together? You can add our babymoon package to any stay in any room ~ so even if you can get away for just a single night, you can enjoy a pre-natal massage at Moondance Massage, a candlelight dinner for two at the White Mountain Cider Company, sparkling cider with fruit and chocolates in case someone is hungry for a snack, a leisurely gourmet breakfast, and a rubber ducky for the new little one's bath. Worried about an unexpected arrival on your getaway? It's never happened before in many a baby moon package, so unless your bundle of joy is going to be named Jackson (or maybe Ellis?), it's not likely!